How to use the new team Context Sharing pages.
What is Team Context Sharing?
Team Context Sharing pages allow teams to manage and communicate relevant content for their team

One of the most valuable uses of the team Context Sharing feature is to set up Game Plans.

Game Plans show operational alignment and identification of interlocks and share the story and narrative that go alongside your OKRs.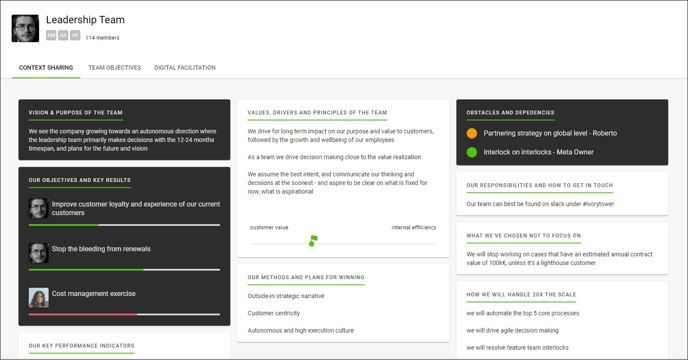 Your Game Plan will include
Team Vision & Purpose
Team Values, Drivers & Principles
Objectives & Key Results for the team
Methods and Plans to win
Obstacles and dependencies
Feel free to adapt to fit your situation.
We're more than happy to set up a sparring conversation to discuss how you might best benefit from this - contact us directly sales@tangible-growth.com
---
How to create a Team Context Sharing Page
The team lead has the rights to create and edit the Context Cards which contain the content for the page (see How do I create and edit Context Cards?).

Any change Manager in your orgnisation will also be able to create and edit any Team Context Sharing pages.
---